Congregation Anshai Torah Sisterhood
Sisterhood Happenings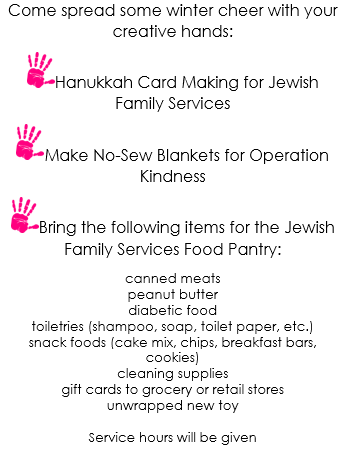 Our next book club selection is "The Immortalists" by Chloe Benjamin. If you were told when you would die, would it change how you lived? Join us on Sunday, December 11th at 2pm on Zoom to find out how the Gold siblings lives were forever changed after visiting a psychic who was rumored to know how old you would be when you died. Register Here
Past Happenings

Our Sisterhood membership appreciation brunch was a huge success with over 60 lovely ladies enjoying delicious nosh prepared by our amazing kitchen staff.
Maaaaaaaahhhhhhhjjjjjjjj!!!!!
Hold onto your Dot's and Bam's, Mah-Jongg card orders will be open from December 1st - January 20th.
Upcoming Sisterhood Events

(subject to change)
12/11/22 (Sunday): Book club 2:00 - 3:00 pm @ ZOOM
2/5/23 (Sunday): Tu B'Shevat Seder 5:00 - 8:00 pm @ Anshai Torah
2/11/23 (Saturday): Sisterhood Shabbat/Torah Fund 9:00 am - 1:00 pm @ Anshai Torah
4/23/23 (Sunday): Book club 2:00 - 3:00 pm @ ZOOM
5/9/23 (Tuesday): Sisterhood program/elections 7:00 - 9:00 pm @ Anshai Torah
6/4/23 (Sunday): Mah Jongg Tournament 11:00 am - 5:00 pm @ Anshai Torah
Upcoming Sisterhood Board Meetings

(subject to change)
*All Sisterhood members are always welcome to attend board meetings.
1/22/23 (Sunday): 9:30 - 11:00 am @ Anshai Torah
2/26/23 (Sunday): 9:30 - 11:00 am @ Anshai Torah
4/16/23 (Sunday): 10:00 am - 12:00 pm @ location TBD
6/1/23 (Thursday): 7:00 - 9:00 pm @ Anshai Torah
Sisterhood 2022-2023 Board
President: Stephanie Kufert
Executive Vice President: Sharon Ginchansky
Membership: Lisa Birenbaum & Stephanie Israelstam
Programming: Nathalie Fletcher & Jill Levy
Torah Fund: Paige Rothstein & Julie Miller
Ways & Means: Ashley Acks & Amy Gross
Corresponding Secretary: Bethany Last
Recording Secretary: Leigh Bennett
Treasurer: Jennifer Robinowich
Social Media: Samantha Zucker
Member at Large: Marla Zack
Women's League Representative: Sherry Lynn Rubin & Shawn Frank
Immediate Past President: Cynthia Brooks
Committee Chair, Non-Board Seats:
Sisterhood Shabbat: Suzy Fine
Mah Jong Tournament: Lisa Olschwanger
Interested in becoming a board member or just want to get more involved please email us at Sisterhood@anshaitorah.org
Help Support Torah Fund. For more information, please click HERE
Every woman has the opportunity to participate in preserving, promoting and perpetuating Conservative/Masorti Judaism through active giving to the Torah Fund Campaign of Women's League in support of the Jewish Theological Seminary (New York, NY), Ziegler School of Rabbinic Studies (Los Angeles, CA), Schechter Institute of Jewish Studies (Jerusalem), Seminario Rabinico Latinoamericano (Buenos Aires), and Zacharias Frankel College (Potsdam).
About Sisterhood


Every organization in which you come in contact wants you, your time and your energy. So why should Sisterhood at Congregation Anshai Torah be a part of your life? The answer is simple. You spend time doing things for your family, our synagogue, your job. You provide services: chauffeur, caregiver, chief cook and bottle washer, laundress, social chairman - the list goes on and on. You need to ask yourself; what do I do just for me?

The answer should be Sisterhood. Come to our gatherings to have some time just for you. Take time to be with other Jewish women, to learn something new, to have some fun and a good laugh. Enjoying life and laughter are integral parts of Sisterhood. Use the right side of your brain and expand your Jewish knowledge. Take a big breath and relax, vent, brag, discuss, ask/give advice with other women who share similar goals and life dilemmas with you. Sisterhood wants to get to know you and we think you will enjoy getting to know us!

CLICK HERE TO JOIN
Membership - Top 5 Reasons To Get Involved
Experience personal growth through programs for education, leadership, social networking and relationship building to help you foster a living Judaism in the home, synagogue and community.

Increase the number of Anshai Torah members you meet, thereby increasing the chance you'll feel like you've found your spiritual home when you attend services and events.

Engage in leadership development. Build on talents you have and discover some you didn't know you possessed.

Contribute to our synagogue in numerous, integral ways through fundraising, programming and volunteer services.

Meet fascinating women of all ages, backgrounds and interests. Make connections throughout our congregation, our community, our world.
Join Today!
All women are welcome to join and membership to Anshai Torah is not required. Our dues are $40.00 a year per member. Of that amount, $15.00 goes to our national organization, Women's League for Conservative Judaism. The other $25 is used to support Sisterhood and pay for programming.

To login for the first time click here
To login to an existing account click here
To explore the WLCJ's programs click here
Did you know CAT Sisterhood has a Facebook Page? Please like us! Contact Samantha Zucker at Sisterhood@anshaitorah.org and she will add you as a member to the CAT Sisterhood Page.
Thu, December 1 2022
7 Kislev 5783
Today's Calendar
---
Tomorrow's Calendar
---
Upcoming Programs & Events
---
This week's Torah portion is

Parshat Vayetzei
Candle Lighting
Havdalah
Motzei Shabbat, Dec 3, 6:02pm
Shabbat Mevarchim
View Calendar
Thu, December 1 2022 7 Kislev 5783